Welcome to Yoga in San Miguel de Allende, Mexico
The Yoga Center of San Miguel de Allende was created as a way to share my passion for yoga with others.
After 4-1/2 successful years teaching yoga in Cusco Peru, I have opened the new studio here in Mexico.
The yoga classes offered are designed for the yoga community here in San Miguel, beginners and experienced alike.
Remember, yoga is not just about flexibility, but about developing awareness to join the body with the mind and spirit.
Yoga Centers Directory - Global guide to yoga instructors, studios, ashrams and retreat centers!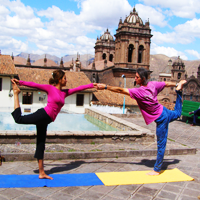 Class schedule and Location

The Yoga Studio is located at the Casa de la Noche a Bed and Breakfast Hotel on Organos # 19/ Centro (½ block from Hernandez Macias) .
Classes are offered Monday, Wednesday, and Friday at 8:30-9:45am and are $100 pesos per class, or $600 pesos for 8 classes taken within a 4 week period. To schedule a private class please call or write.
Schedule Updates

I have mats for sale..
Contact info

Call my Mexican cell at # 415 117 6859 or my US cell at # 619-243-2723
Email at yogacentersanmiguel@gmail.com
http://www.casadelanoche.com/
Al Toth-Registered Yoga Teacher, RYT 200
I am an experienced yoga teacher with over 1500 hours (12 years) of teaching experience. I began practicing yoga in 2000 and started teaching in 2003. I taught for 5 years in San Diego, CA., then for the next 5 years in Cusco, Peru. I studied at the Iyengar Center of La Mesa, Ca. and received my 200 hour yoga teacher training from Kathy Lee Kappmeier, founder of YogaWell in San Diego, Ca. I regularly attend yoga conferences in the USA, and have studied with both B.K.S. Iyengar and Sri. K. Pattabhi Jois. I teach a Hatha Vinyasa style, sort of an Astanga / Iyengar blend, but really I teach to the students I have in the class at that moment. I am also a Certified Fitness Instructor and Personal Fitness Trainer (AFAA). Additionally, working as an Outdoor Wilderness Guide at San Diego State University, I led Yoga/Rock-climbing Retreats to Joshua Tree National Park for 4 years.